Monday, March 23 - Friday, March 27
No unread replies.
No replies.
1. www.typing.com - (Links to an external site.) Type for ten minutes. You want to make sure you are finishing up the Advanced section of typing.
2. Complete the Module called March 23-27 this week. March 23-March 27
I have broken this document down (Student internet packet.pdf

) in Canvas so that it would be easier for you to complete and turn in. The only way you should complete this on paper is if you do not have access to the internet.
3. Send me an email using proper email etiquette. Tell me what you did over Spring Break and how you are doing now. I can't wait to read them. Make sure you use a greeting, a body, a closing like "Sincerely," and a closing (Your Name). This should be written in complete sentences and should not be one big run-on sentence. email template for students. (The template is only for students who do not have access to the internet. However, the proper parts of an email are demonstated in an example.)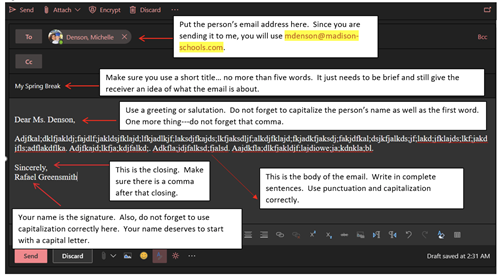 This is a suggested schedule for completion of the assignments.