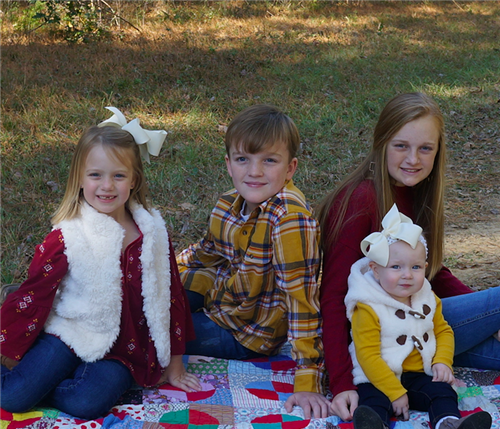 Phone:
Email:
Degrees and Certifications:
Mrs.

Jill Knighton

This is my 4th year teaching math at Germantown High School. I have taught in the secondary setting for 15.5 years. I graduated from Mississippi State University with a bachelor of science in teaching and coaching and am certified in K-12 physical education and 7- 12 math. I am married and have four kids that attend school in the Mav zone.

You can contact me by email: jknighton@madison-schools.com.
Students,

I hope each of you are well and exercising caution during this time. If you have any questions for me, please email me at any time - jknighton@madison-schools.com

Please refer to canvas for all information and updates regarding our class.

As far as Algebra 1 goes, we will continue with our course content. Each topic will have notes/videos explaining content and practice problems. At the end of the unit, we will take a test in mastery connect. I will post your assignments for the week in canvas. You have until Friday at 11:59 pm to complete all assignments. We are not "meeting" during our regular class time. You have the flexibility to do you math work when it best works for you. I will be available from 8:20 until 3:40 everyday - so email me or send me a remind message with your questions.

It is important that you stay current on your assignments and email me with any questions. If you have questions, send me pictures of you work. The more specific you are the better I can help you. Since we are not in the classroom, the only what I will know if you need help is if you ask. I get emails on my phone and can respond with pictures or videos if needed. We are all learning how to do this together and will get through this together.

For right now, we will be using Khan Academy as well as our regular online sites. I know that you are familiar with Khan Academy from middle school; it has notes, videos, and practice all in one place to help you. You can watch tutorial videos from your phone or computer. Feel free to google other videos if you need more explanation. I can also send you links for other videos if needed.

If you do not have access to internet at home, you will have paper notes and assignments that you will complete for grades. You can also send me messages on remind for help and look up videos using your phone.

Remember you have desmos testing site to use as a graphing calculator. There is also an app you can download on your phone - Desmos Test Mode.

To keep up-to-date with information, please make sure you are part of our remind. The codes are in canvas under 4th 9 Weeks General Information.

Mrs. Knighton