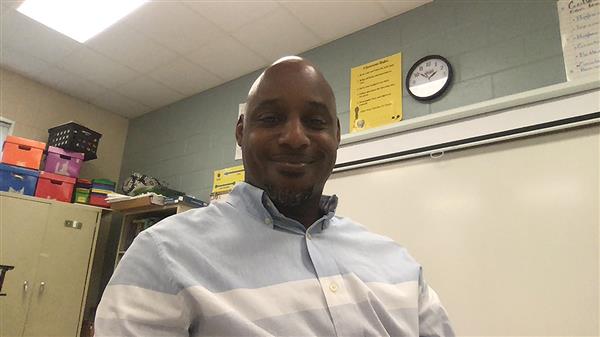 [George Mitchell]

Contact:

---

WELCOME!!!

Hello, Everyone!!! My name is George Mitchell and I will your 8th grade Mathematics and Algebra 1 teacher for this year. I have been a teacher of mathematics for nearly 20 years and have been a tacher in Madison County for 7 years. I enjoy listening to music (jazz, synthwave, rock), playing with puzzles(word, number, or jigsaw), and cooking. I also enjoy watching my students learn as they collaborate with others to solve problems, and I am excited to see how much you will learn this year.

Over the past few months, we have been faced with some unfamiliar challenges. Moving forward, I am expecting more challenges to come. While maintaining safe practices during this pandemic, you will be involved in collaborative, exploratory activities that allow you to experience mathematics in (hopefully) a new way.

It is important that you place your concentration on the math learning. Grades are secondary; a result of your learning. Learn from your mistakes. Many math concepts have been developed by learning from past mistakes and learning how to improve upon them. Once you've learned a concept or skill, PRACTICE IT!

Let's work together to help your child have a successful year. Some things that can be done at home to contribute to your child's success:

Make sure your child has comfortable and quiet area to study and do homework.
Check homework for accuracy and completeness
Express high yet realistic expectations for achievement
Encourage your child daily to do their best

Have FUN! Learn!

George Mitchell

8th Grade Math Teacher/Algebra 1

Supplies needed daily

2- 1 subject notebooks
1- 1 inch binder
Loose leaf paper
At least two pencils (No Pens!!!)
Highlighter
Colored Pencil
Positive Attitude
The WILL to be better!